Spotlight
Recent Projects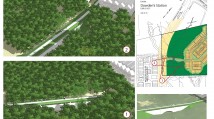 Clarksburg Mews LLC recently received approval for rezoning to the planned development ...
Notable quotables
Success is not final, failure is not fatal: it is the courage to continue that counts.
– Winston Churchill
The work is abundant, we require only a deference born of understanding to fulfill man's promise. man is that uniquely conscious creature who can perceive and express. He must become the steward of the biosphere. To do this he must design with nature.
– Ian L. McHarg, Design with Nature, 1969
A study of the principles of design, whether they were conscious or unconscious, which have given our villages their beauty, their charm and their character, may well elucidate principles that will be useful in our new building.
– Thomas Sharp, The Anatomy of the Village, 1946
I believe that society must return to basic principles of urbanism, and we collectively must stop wasting resources on untested, technocratic solutions. Only then will cities continue to serve future generations as centers of culture, innovation, and discourse of humankind.
– Dhiru A. Thadani, The Language of Towns and Cities, 2010
The forms of present buildings and settlements are largely the product of an intemperate use of petrochemical energies, of synthetic materials, and industrialized mass production. Traditional towns and villages instead depend essentially on the use of natural local resources and materials, on individual manpower and skills.
– Leon Krier
Patterns (of towns and communities) can never be "designed" or "built" in one fell swoop – but patient piecemeal growth, designed in such a way that every individual act is always helping to create or generate these larger global patterns, will, slowly and surely, over the years, make a community that has these gobal patterns in it.
– Christopher Alexander, A Pattern Language, 1977
All sustainability is local.
– Douglas Farr
If a physical theory can't be explained to a child, it's probably worthless.
– Albert Einstein
Sustainable development is development that meets the needs of the present without compromising the ability of future generations to meet their own needs.
– -UN Brundtland Commission, March 20, 1987
Lawns use more equipment,labor, fuel, and agricultural toxins than industrial farming, making lawns the largest agricultural sector in the United States.
– Richard Burdick
Our (town) planning should take its cue from the patterns of nature itself – the water table, the floodplains, the ridges, the woods, and above all, the streams.
– William Whyte, The Last Landscape

This site is brought to you through the purchase of Renewable Energy Credits that offset 100% of the electricity used in hosting.
"Perhaps the most famous volume on traditional town planning is Raymond Unwin's 1909 classic Town Planning in Practice: An Introduction to the Art of Designing Cities and Suburbs. The title is well chosen, because Unwin clearly approached his subject from an artistic point of view, a perspective that is sadly deficient in our profession today."